Main content starts here, tab to start navigating
About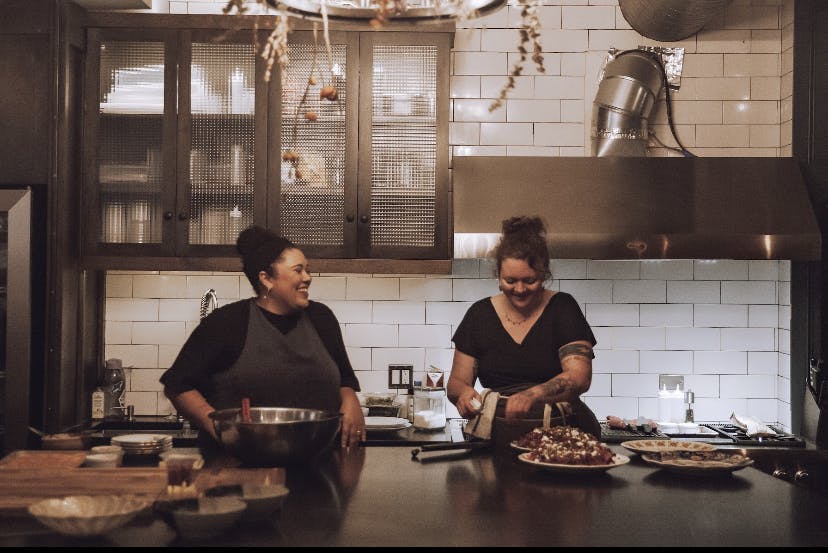 We are Eve Studnicka and Alexis Thomas-Rice: the co-owners, executive chefs, mischief makers and best friends behind the LGBTQ and POC owned virtual restaurant, Funeral Potatoes - voted Best Meal Kit in The Chicago Reader, featured in Chicago Magazine's 10 Hottest Restaurants and Chicago Tribune's Top 100 Takeout.
We started our virtual restaurant as a temporary way to stay afloat during the early, uncertain days of the pandemic and have since delivered to thousands of Chicagoans, popped up at dozens of local markets and events and are still going strong almost 4 years later.
As two born and bred Midwesterners, we're obsessed with taking the nostalgic, grandmacore flavors that defined our childhoods and combining them with the modern techniques and diverse ingredients that we love.
We release a new menu of thoughtful dishes every week (orders open Saturday-Monday) that are cooked in a licensed commercial kitchen and delivered to you chilled or frozen, to be reheated at your convenience. We also offer bespoke catering and would love to pop up at your next event.
Thanks for being here and supporting our dream.
We can't wait to cook for you!
Alexis Thomas-Rice
Alexis Thomas-Rice opened her catering company Black Cat Kitchen in 2018 and spent 2 years slinging veggie focused comfort food at farmers markets and private events all over Chicago. When the pandemic made event caterers all but obsolete, she joined forces with her bestie and former coworker Eve Studnicka to form the Funeral Potatoes you know and love.
Alexis loves elevating simple, nostalgic recipes and shining a light on all of the delicious food and talented chefs that exist outside of traditional, stuffy fine dining.
Eve Studnicka
Eve Studnicka is a chef and community-builder from the hill country of Southwest Wisconsin.
Her work focuses on the pleasures of restaurant-dissident dining, the bounty of the Midwest, and the celebration of marginalized communities. In 2019 she was voted Best Up and Coming Chef in the Chicago Reader.